Douglas McKay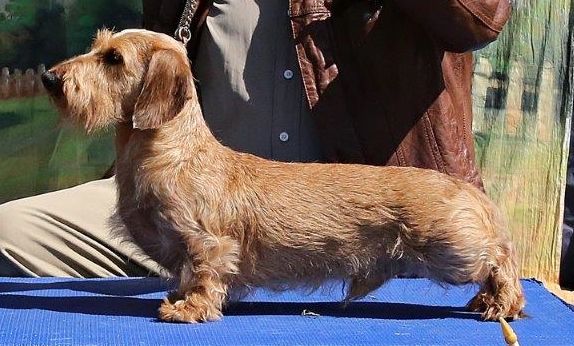 Grand Ch Tarrangower Tyzack S.E.

Douglas McKay is the only Australian architect who shares his home and office with Miniature Wire Haired Dachshunds. The first joined his family at Palm Beach in 2004 and his involvement in the breed has slowly increased, firstly in the show ring and later on with earthdog trialling and breeding as well. Previously, his two sons had grown up with a Miniature Smooth Haired Dachshund and he had successfully shown and bred Scottish Terriers as a teenager.

Tarrangower Miniature Wire Haired Dachshund litters are carefully planned with correct conformation and friendly but outgoing temperament in mind. All have been selectively bred, commencing with line breeding to both Am & Can Ch EJ's Top Gun, one of the most successful Dachshunds ever in the USA, and to Eng Ch Stargang Bramble. Since 2008, twenty one Tarrangower champions have been made up – Tzigane and Tzatziki (litter No1), Tydides (litter No2), Tangerina and Tangelo (litter No3), Tyzack and Tylaris (litter No4), Tzivia (litter No5), Tequila and Tequati (litter No6), Tibberoo and Tiburtini (litter No7), Tamagoza (litter No8), Thebe and Thrupp (litter No9), Tabasco (litter No10), Talisker and Thistle (litter No11), Tetswana and Taraji (litter No12) and Tiwi (litter No13).

Not every Dachshund seen in the show ring today has the conformation and temperament to fulfil the original purpose of the breed to go down into tunnels and dens to flush out badgers, otters, weasels, rabbits and rats. In Europe, successful completion of earthdog training has been a pre-requisite for Dachshunds to attain a conformation title. Following great success in the earthdog den at Erskine Park with his first Miniature Wire Haired Dachshund, Ch Elphyn Llewellyn S.E., Douglas McKay initiated earthdog tests in 2009 for the Dachshund Club of NSW Inc and an increasing number of Dachshunds are now proving their capabilities. Not least is Grand Ch Tarrangower Tyzack S.E., achieving his first two earthdog titles in the limited 2013 earthdog season in addition to swag of achievements in the show ring.
Testing of our dogs for PRA in Australia and for Laforas in Canada has certified that the current Tarrangower Miniature Wire Haired Dachshund team is unaffected by these diseases and that they do not carry the genes which cause them. The results from the recent IVDD calcification testing of the eligible members of our team are excellent.
The quality and soundness of Tarrangower-bred Miniature Wire Haired Dachshunds continue to be recognized by other Australian breeders who have or are incorporating them into their breeding programs - Chipal (Tzetze), Uglee (Tydides, Tylaris, Tyzack & Tibberoo), Fayrewyre (Tangelo & Thistle), Elphyn (Tylaris), Wattswires (Tyzack), Tinsnips (Tequati), Syrma (Tyzack), Aasheerdac (Tamagoza), Drahtdach (Thrupp), Darkrai (Taraji & Tingari) and Kizatri (Tetswana).
Contact Details
Douglas McKay
Palm Beach, NSW, Australia
Phone : 02 / 9974 5572
Email :
[email protected]